You must have seen articles in that genre: the author collects a few  imprudent technology predictions from the past and pokes fun at their authors, the more prestigious the better. Favorites — copy-pasted, with or without fact-checking, from one  such piece to another — are Lord Kelvin's 1895 pronouncement that "Heavier-than-air flying machines are impossible" and Bill Gates's comment (apocryphal, but who cares?) that no one needs more than 640KB of memory. Run a Bing search for something like "wrong technology predictions" and you will find dozens of such collections.
A few years ago they often derided turn-of-the-previous-century visions of communication through a videophone, as in this depiction by Villemard: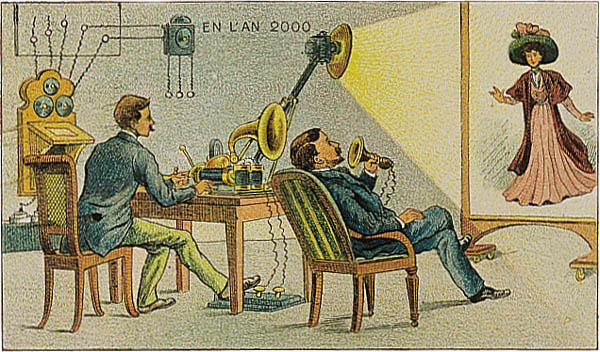 A bit one-sided in its view of gender roles, but delightful and amusing. "Look what in 1910 they thought the future would bring!" In 2009 it is no longer laughable: the future is here, and — other than display techniques and women's fashions — it is exactly this.
I am amazed by the lack of hype that has been associated with Skype. With close to 500 million accounts, and 17 million of them connected at a typical time, it is not exactly a secret; but it is remarkable how little buzz it gets in the media and in our collective consciousness.  The company itself seems to be more interested in getting the job done than in glamour. If we look at the substance, however, few technologies come to mind from the past few decades that have influenced people's lives so directly and beneficially. From the launch of Skype in 2003 it became possible to have free calls worldwide;  then in 2005 free video was included. Suddenly this videotelephony, fodder for visionaries and cartoonists, became available to anyone with an Internet connection — for free! Almost as unbelievable as the technical feat is that this all happened without headlines, without grandiose pronouncements, and without any forewarning by the technology pundits. Almost overnight we take a giant collective step, and we act as if nothing happened.
With and without video, Skype has had a profound effect on the daily communications of countless people. It also has many professional applications; in an article of last year [2] I described how we use it, together with other technologies such as Google Docs, to turn the old "Code inspection" of software engineering into something far more useful to the project and attractive to the participants.
As always with a breakthrough technology, you find the naysayers; in the universities of a large Western country, system administrators have — can anyone believe this? — banned the use of  Skype, invoking some mysterious and unsubstantiated security risks. And certainly Skype is not perfect; we still get the occasional dropped call. What is more relevant than the occasional annoyance is how well the technology is designed; I have used the audio part, with quite reasonable performance, on a dial-up line from a remote location. And successive versions keep bringing in new wonders.
If there was an award for the highest usefulness to brouhaha ratio, Skype would be the favorite. Cheers for the most practical, least hyped technology of our time.
References
[1] Futuristic postcards by Villemard, from an exhibition.
[2] Design and Code Reviews in the Age of the Internet (preprint of an article in Communications of the ACM, Sept. 2008).